I am a Level Designer focused on excellence in gameplay. I constantly seek to deconstruct  fundamental gameplay mechanics and put them back together in clever and masterful ways to craft an overly enjoyable game experience. I believe video games represent an evolution in storytelling, one that takes the audience interaction implicit in theater and oral storytelling to new heights. I am an author of intensely personal experiences that shift and conform to the second by second decisions of my audience of players. I enjoy the science and problem-solving inherent in game development yet I always treat my craft as the art-form it is and deserves to be recognized as.
Prior to joining the professional games industry,  I was a member of Teach for America and worked as a 6th grade English/Language Arts Teacher in Houston. Being a teacher taught me how to work long and demanding hours with a team of committed professionals. I learned to trust in my co-workers and to know that when we are all working towards a goal, we can accomplish it better by working together. In the classroom, I combined my love of gaming, learning, and stories to introduce novel lessons using games as a tool. My students played Zork and other text-adventure games to build their comprehension skills, used game videos to highlight elements of storytelling in different mediums, and even created their own choose-your-own adventure games to synthesize all they'd learned.
I bring a commitment to constantly pushing the boundaries of what is achievable. I am driven to conquer challenges. I carry the experiences of leadership and teamwork necessary for success, a zeal for gaming and stories in many media, and the desire, drive, and dedication to build the bridge to the future of gaming.
[wpcol_1third id="" class="" style=""]
[/wpcol_1third]
[wpcol_1third id="" class="" style=""]
[/wpcol_1third]
[wpcol_1third_end id="" class="" style=""]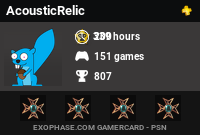 [/wpcol_1third_end]